CANCELLED:Intro to Metals with Kristin Mitsu Shiga
Description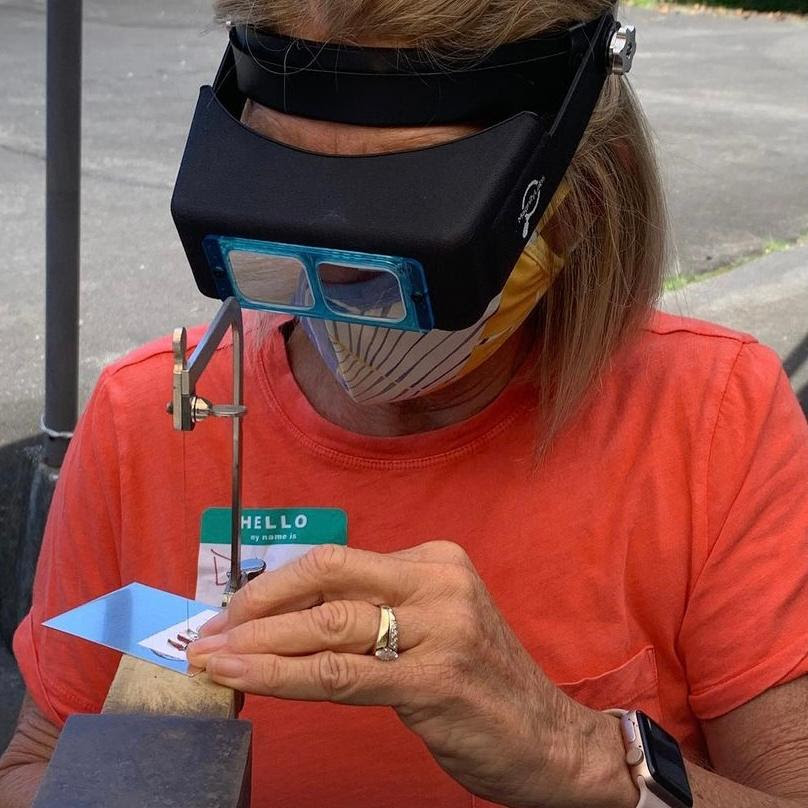 Instructor: Kristin Mitsu Shiga
Schedule: Fridays, April 8 - May 27, 2022 from 9:00 am - 12:00 pm
8 sessions
Location: DMAC Ceramics Studio
Level: Beginners
Tuition: $305 Member / $380 Non-Member
Supply: $55

Class Description:
This fast-paced class is designed for beginner metalsmiths who wish to build strong foundations in fabricating with nonferrous metal sheet and wire. We will begin with the basics of measuring, marking, drilling, sawing and piercing metal, then move on to texturing and connecting elements with rivets. Next we will introduce the torch and learn what it takes to make strong joints with silver solder. Students will be encouraged to experiment with texture, patinas and connections as they complete wearable pieces. Handmade and commercial findings, such as clasps, bails, jump rings and ear wires, will also be discussed. We will be working primarily with copper, brass, nickel and Sterling silver. Emphasis will be on building strong skills and working safely, as well as tapping into your own creative voice. Each class will feature detailed demonstrations with handouts and work time for students to try new skills on their own.

Please note that the Intro to Metals, though designed for learning the foundations to metalsmithing, is open to intermediate students to continue their study, advancing in skill and techniques.

Tuition includes access to an open studio for 4 hours after each class (depending on volunteer studio monitor availability).

Bio:
After a dart thrown at a map and 20 years in Portland, Oregon, Kristin Mitsu Shiga moved to the Big Island to become a more permanent part of our creative community in 2017. She has been teaching metalsmithing, enameling, book arts, and mindfulness practice around the world since 1992. Kristin has shown her work internationally, and is included in several notable collections, including the Kamm Artful Teapot Collection and the Permanent Collection of the White House. Learn more about Kristin on Oregon Artbeat (link to http://www.opb.org/programs/artbeat/segments/view/837 - segment originally aired in 2010), or stop by her shop in Kealakekua @okina_jewelry.
Supply fee includes use of all tools and equipment in the metals studio, supplies and materials for basic projects and demos, and shared studio consumables. Additional metal and supplies will also be available for purchase during class or open studio.
Students should bring:
● Ultra fine tip Sharpie
● Pen and pencil
● Sketchbook or Notebook
● Apron
● Closed-toe shoes
● Hair Tie (for long hair)
● Water Bottle & snacks
● Vision Aid (if needed)
● Optional: Tool or project box

Min & Maximum Enrollment: 5 / 7