Kona People
Description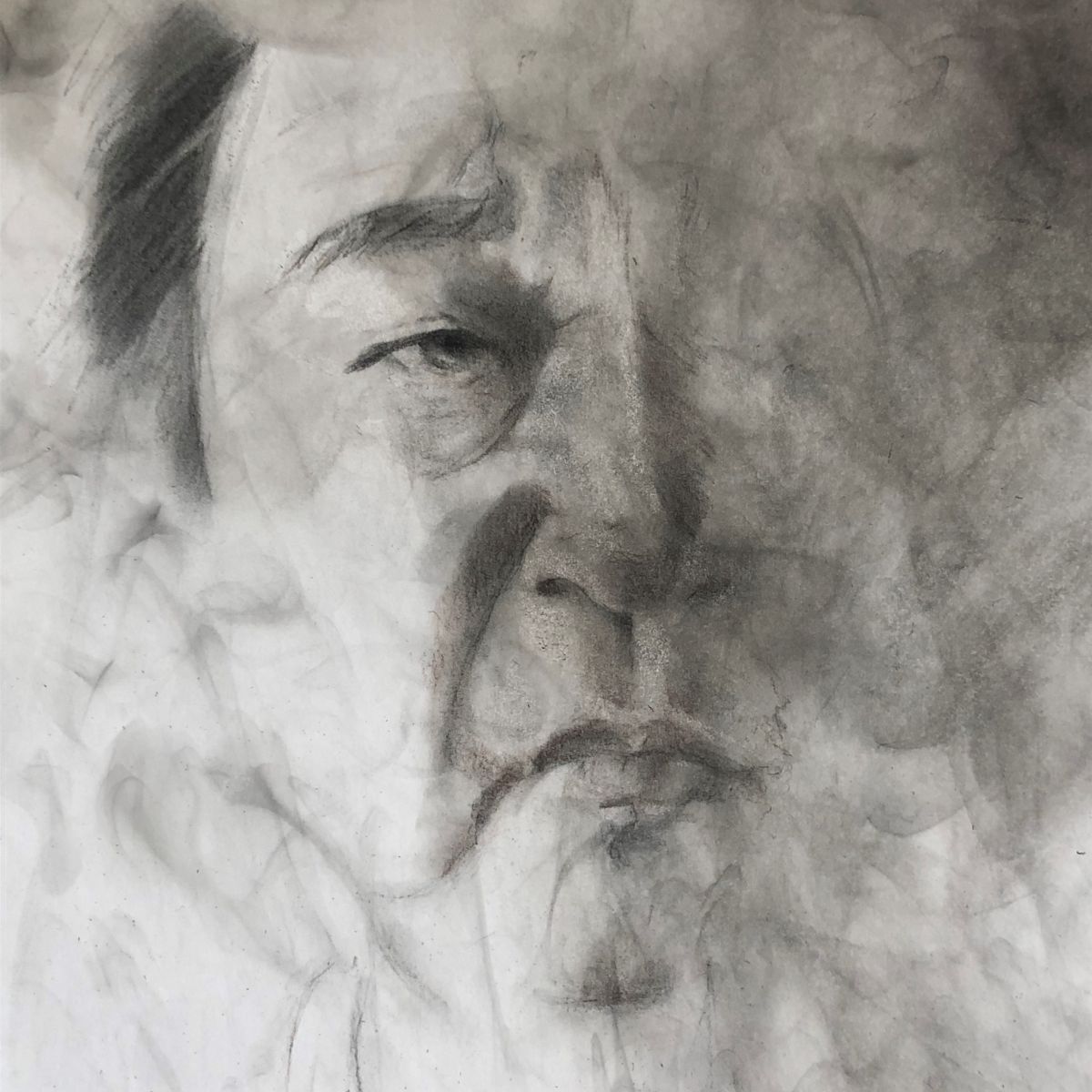 "Wilfred Yamasawa" by Adare, (detail), 2021
On View: October 23 - December 18, 2021
Artist Reception & Awards (In-person, by appointment): Saturday, November 6 from 6:00 - 8:00PM
Virtual Artist and Farmer Walkthrough (Online): Thursday, November 11, 2021, 5:30 - 7:00pm
Curator's Tour (In-person): Saturday, November 20, 2021, 2:00 - 3:00pm, 3:30 - 4:30pm
"Farming has taught me to live closer to ʻāina, to pay attention to everything happening in your environment, to live simply. Farming means you will always have something to offer to share or to trade. Farming can teach you so much about yourself. It highlights the reciprocal relationship between you and ʻāina." - Anne Kamuela Meheula, Kona Farmer featured in Kona People through work by artist Hana Yoshihata
This curated exhibition pairs artists with Kona farmers to create works which convey the spirit of "Kona People" through explorations in portraiture. From oil paintings to digital media and drawings, artists employ a variety of methods and media to capture connections between these farmers, the 'āina and their work. In this collaborative project, farmers and artists shared stories, lessons learned from the land and visions of the future. Featured artists include Adare, Noel Badges Pugh, Naehalani Breeland, Aspen Dewey, Ronit Fahl, Amanda Lillibridge, Mary Lovein, Miho Morinoue, Brandon Reis, Virginia Small, William Wingert and Hana Yoshihata.
Awards will be presented by guest judges, Valerie Corcoran, President of the Kona Coffee Cultural Festival and artist, Gerald Walsh III, who will select first, second and third place winners. The "People's Choice Award" will be presented to the artist garnering the most votes from the community.
This exhibition and programs are made possible by the support of the Kona Coffee Cultural Festival, the Hawaiʻi Community Foundation's CHANGE Grant, and a Biennium Grant of the Hawai'i State Foundation on Culture and the Arts.
Guest Judge Bios:
Valerie Corcoran
Since 2016, Valerie Corcoran has served as President of the Kona Coffee Cultural Festival in Kona, Hawaii. Valerie has been a long time Festival board member and Festival volunteer. She also served as Vice President prior to becoming President. Valerie's festival and community experience, knowledge and energy have been helping Hawaii's oldest food festival continue to evolve and grow. Since 1991, Valerie started volunteering with the Kona Coffee Cultural Festival when she moved to a coffee farm. She chaired the Festival's Farm Fair and became the Festival's Operations Director. Born and raised in Kona, Valerie grew up on a coffee farm where she worked alongside her family picking Kona's famous harvest.
Gerald Walsh III
Gerald Thomas Walsh III is a local artist who has lived in the Big Island all his life. Graduating from University of Hawaii at Hilo, Gerald's major was a B.A in general art. In the process of studying and practicing art, he soon found his passion for printmaking. His work explores patterns in both the organic and geometric sense as they embody images in relation to the human figure. Gerald's prints have been shown in numerous exhibits of the Donkey Mill as well as the Annual Japanese Chamber of Commerce Exhibit in Oahu. Gerald Walsh was a full time teacher at Makua Lani Christian Academy where he taught art from Kindergarten through 7th grade. He is currently focusing on his own printmaking and is working for Parrots in Paradise Sanctuary.
The Donkey Mill Art Center, a 501(c)(3) nonprofit, is a place of convergence for the exploration of arts and culture to inform, inspire and strengthen individual and collective well-being. For more information, visit donkeymillartcenter.org or call (808) 322-3362.

Donkey Mill Art Center is open Wednesday through Saturday, 10:00 a.m. to 6:00 p.m. at 78-6670 Mamalahoa Highway in Hōlualoa.