CONVERGENCE: Annual Art Auction 2022
Description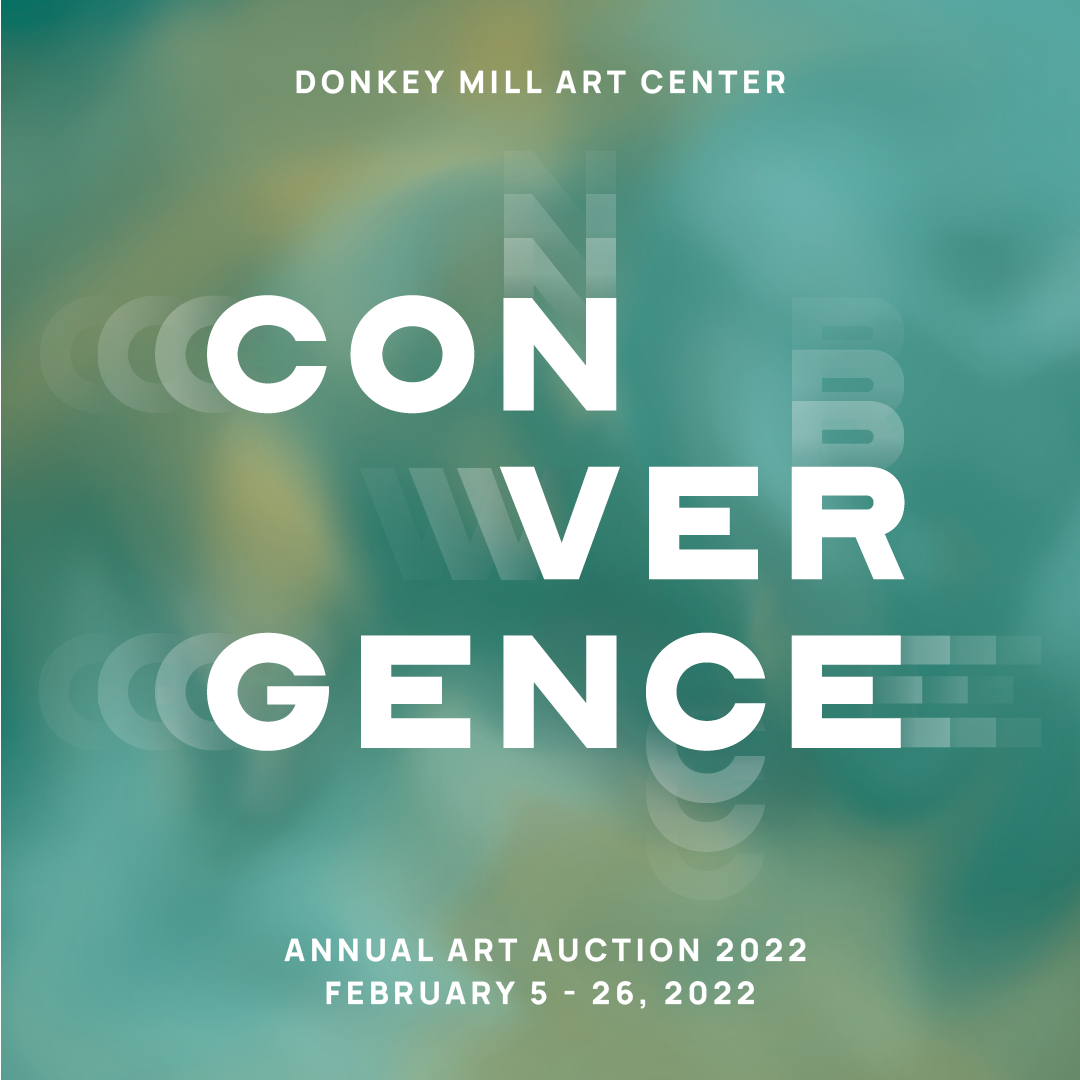 On View: February 5 - February 25, 2022, during open hours, Wed - Sat from 10:00am - 6:00pm
On-line Silent Auction Opening Date: Saturday, February 12, 2022
On-line Silent Auction Closing Date: Saturday, February 26, 6:30pm
In-Person Live Auction Date: Saturday, February 26, 5:00 - 8:00pm HST
Event Registration: https://bit.ly/convergenceauction
Location: Donkey Mill Art Center / Online
Exhibition Tours: Saturdays, February 5 and February 19, 11:00am and 1:00pm
Tour Admission: $5 suggested donation
Tour Registration Required:
The Donkey Mill Art Center's 15th annual art auction, CONVERGENCE, celebrates the power of the arts to bring people, ideas and perspectives together in unity to inspire individual and collective well-being. As a place of convergence for the exploration of arts and culture, the Donkey Mill is honored to feature the works of over 75 works by emerging and established artists from Hawaiʻi and beyond. As West Hawaiʻi's premier event for art enthusiasts and collectors, auction artworks include an exceptional selection of ceramics, paintings, kapa, photographs, prints, lauhala, jewelry and more.
With the online silent auction taking place from February 12 to 26 and an in-person live auction at the Mill on Saturday, February 26, 2022, this year's virtual and in-person events enable patrons from around the world to bid competitively on exemplary work by respected artists.
With artworks priced from $50 to $10,000+, highlights of this year's auction include pieces by renowned artists Roen Hufford, Wayne Levin, Bernice Akamine, Hiroki Morinoue; ceramic artists Clayton Amemiya, Jeff Downing and Esther Shimazu; prints by Hunter Buck and Miho Morinoue; lauhala pāpale (hats) by Nanette Bell, Eve Berliner and Makiko Yamaguchi and so much more!
Visit donkeymillartcenter.org for more information and register to participate at https://bit.ly/convergenceauction. Tickets for the in-person live auction will be available on Wednesday, February 2, 2022.
This year's event will feature a special award ceremony as the Donkey Mill is one of sixteen organizations nationwide to receive a Stand for the Arts award from Ovation TV, a Charter Communications (Spectrum Hawaii) subsidiary.
CONVERGENCE: Annual Art Auction is made possible through the generous support of fiscal sponsors: 2021 Stand For the Arts Award by Ovation TV and Charter Communications, Hawai'i State Foundation on Culture and the Arts Biennium Grant, BREW, West Hawai'i Community Health Center and in-kind donations by Kona Trans, Pictures Plus and Spirited Cocktail Catering.
Mahalo nui loa to the artists and community members who donated their art to support outstanding arts and cultural programming at the Donkey Mill.

Live Auction Artists: Bernice Akamine, Clayton Amemiya, Margaret Barnaby, Gerald Ben, Micha Croft, Michael Cutlip, Jeff Downing, Roen Hufford, Wayne Levin, Hiroki Morinoue, Setsuko Morinoue, Jim Skibby and Makiko Yamaguchi.

Silent Auction Artists: Adare, Amber Aguirre, Nanette Bell, Eve Berliner, Jake Boggs, Hunter Buck, Lynn Capell, Joey Chiarello, Robert Corsair, Tara Cronin, Heide Cumes, Angaea Cuna, Akiko Cutlip, Andrea Dezsö, Peter Durst, Eric Edwards, Bailey Ferguson, Stephen Freedman, Judith Gaulke, Lonnie Graham, Daven Hee, Sandra Sater, Bobby Howard, Jonah Lake, Tai Lake, Jaxson Lambert, Wayne Levin, Cris Lindborg, Kasey Lindley, Ken Little, Theresa Lovering-Brown, Gerald Lucena, Linda Meyer, Meleanna Meyer, Miho Morinoue, Setsuko Morinoue, Richard Notkin, Mayumi Oda, Okotokoto, Margo Ray, Dorothy Remington, Sam Rosen, John Roth, Laurel Schultz, Esther Shimazu, Sheinfeld Rodriguez, Leslie Steinwachs, Ira Stivers, Phoebe Toland, Lauren Trangmar, Emma Ulen-Klees, Judith Williams, William Wingert, Nora Yamanoha, Meredith Yasui, and Maile Yawata.